Dix306 Was Choice for Wake County High School Civics Project
On September 26th, 2007, local high school students Julie, Lauren and Meg met with Bill Padgett and Christie Starnes to discuss how future generations would benefit from the Dorothea Dix property becoming a world class destination park. Bill talked about the rich history of the land - how Raleigh was spared only when the superhuman efforts of Sherman's lieutenant, General John Logan stopped angry soldiers from burning Raleigh as they had the other Southern capitals - instead Raleigh was salvaged. Some historians say it was due to the magnificent view of the city from Dix Hill.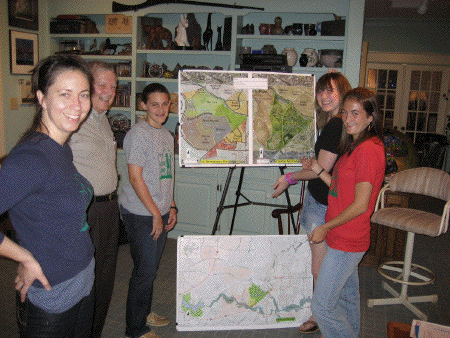 The teens were asked what they envisioned for the 306 acres of Dix Park. Lauren hopes to settle down in an urban environment where she can walk out of her downtown condo and shortly arrive in the city park where she can attend outdoor shows and see local art. Meg and Julie look forward to a nice house with a big yard, but want a local park to take their families to enjoy picnics and music. Regardless of what they look forward to seeing in Dix Park everyone is in agreement that it should be salvaged once again - this time from development!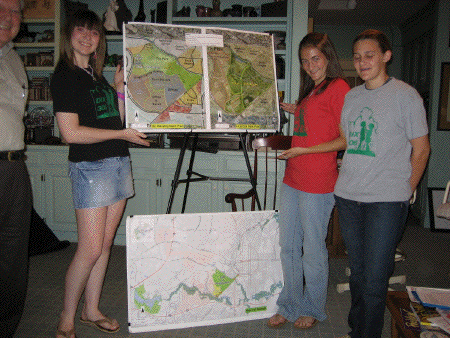 Christie brought along some recycled tees with a new DIX306 design for the teens. They were a big hit as you can see from the photo. Christie and colleague, Jason Whitman, designed and screened the shirts in-house. Check back for upcoming DIX306 art projects and ways to become creatively involved by supporting DIX306!
---
Dix306 Resolution Passed Unanimously in the Democratic Party
(Read more...)
---
Raleigh voters indicate support for a Dorothea Dix Bond
(Read more...)
---
Dix306 visits The Eno Festival for the River
(Read more...)
---
Raleigh Mayor Pressing State Lawmakers to Sell Land
(Read more...)
---
Neighborhood kids volunteer to help Dix306!
(Read more...)
---