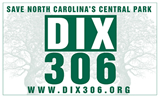 Send A
Dix306 Ecard
See The Save
Dix Park Wiki
Dix306 In The
News
Artists In
Support Of Dix Park
Invite A Speaker
Join Our Email List
Share Ideas
Contact Us
Dix306 Gear!
Mission Statement: Our goal is to save all 306 acres of the Dorothea Dix Campus for a World Class Destination Park for future generations.


Dix306 Is a Hit At the Eno Festival for the River!
(Updated July 12, 2007)--Volunteers from Dix306 were on hand at the Eno Festival for the River in Durham. The event was a huge success for Dix306, and we averaged 400 signatures each day for our petition drive. One thing was clear from everyone that we spoke to: People want all of the Dorothea Dix land to be designated as a park for the people of North Carolina!

We urged people to write to their representatives to make their wishes known. This campaign is receiving more momentum each day, but we need people from all parts of the state to make their voices known. Maybe we will be in your town next!

Davis Peacock, a nine year old from Raleigh, helped out in the Dix306 booth. The next day, Davis wrote the following letter:


7/8/07
To whom it may concern,

If Dorothea Dix were a park, think of all the children who would be playing there. My name is Davis Peacock and I am nine years old. I am a supporter of Dorothea Dix as a park because if it was a park there would be 306 acres to do things. I have a friend named Addison (8 years old) and we like to spy on his sister Lily (4 years old) in wide open spaces. 306 acres is very, VERY, VERY, wide. By the way, we don't need another mall. We already have 2 malls and then we have a lot of strip malls, apartments, condos, and townhouses, but then only a few parks. Developing Dorothea Dix means cutting trees. Trees give us air, without trees we would perish. These are some reasons to save Dorothea Dix park.

With hope, Davis Peacock
---
Updated June 13, 2007--Raleigh Mayor Pressing State Lawmakers to Sell Land
(Read more...)
---
Neighborhood kids volunteer to help Dix306!
(Read about it here...)
---

FAQ
Maps
Video
Plan
Comparisons
White
Paper
Events
Calendar
News
Archives
RSS Feeds
Quotes
From The Dix306 Petition
"Lets not waste this opportunity to add some much needed green space to the city. We need to keep in mind that Dorothea Dix wanted to use the land to serve the people of this state. Just because the hospital is gone does not mean that we cant still use the park to give back to our community. The last thing Raleigh needs is another subdivision or strip mall."
Bo Bryan