The City of Raleigh Offers $10.5 million for Dix!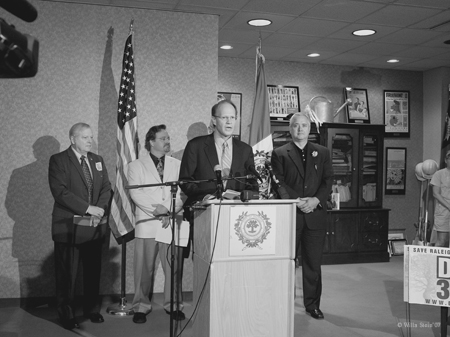 The following is taken from the News and Observer by staff writer David Bracken:
RALEIGH - The city of Raleigh is offering $10.5 million to purchase the Dorothea Dix Hospital campus from the state, Raleigh Mayor Charles Meeker said today. Meeker said the city wants the property to be appraised as parkland to determine its worth. He estimated the 306-acre site, which overlooks the central business district, is worth $10.5 million as parkland. State legislators would have to approve the sale of the campus and 150-year-old state psychiatric hospital, which is scheduled to close by late November. Meeker said the city is asking the state to sell all the Dix property for use as a destination park. The city also wants the historic buildings on the site to be restored and used only in ways that are compatible with an urban park.
The state Department of Health and Human Services would be able to keep existing office employees on the site for three to five years without paying rent, under the city's proposal. Joining Meeker at today's press conference were representatives of three advocacy groups: Friends of Dorothea Dix Park, Dix Visionaries and Dix 306, who hope to form a public-private partnership to develop the park. Gregory Poole Jr., president of Dix Visionaries, said his group plans to raise more than $7 million from private donors to go toward the development of the park.
The group also announced that its members are sending a letter to Gov. Michael Easley to ask him to encourage the General Assembly to approve the sale of the property during this session. They also are seeking Easley's assistance in creating a land conservancy to help plan and develop the park.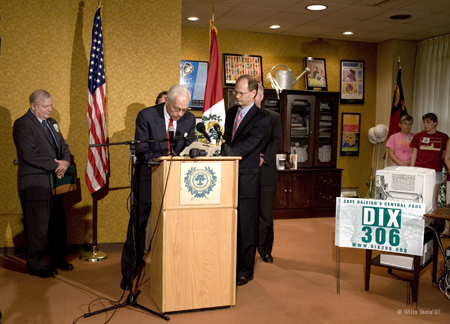 Gregory Poole Jr., Pres. of Dix Visionaries at the podium. Mayor Meeker is on his left.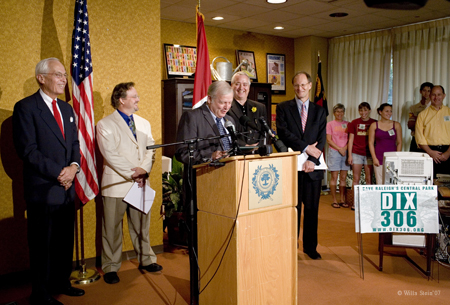 Bill Padgett of Dix306.